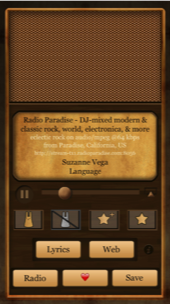 Short Wave (formerly Radioz) is an Universal application that streams Internet Radios on your iPhone, iPad and/or Macintosh. A searchable radio's list allows you to select and listen your preferred channels worldwide. Karotz and Nabaztag are supported as listening devices as well.
With Short Wave you can create lists of radio or songs – and synchronize them on all your devices (on iPhone/iPad using Short Wave for iOS).
If the radio transmits song's title and information, you are enabled to read the lyrics and save the title. Later on, you can search again the song by name, buy it or share it with your friends. Personal lists are synchronized via iCloud.
To listen the radio also on your karotz you'll need also the free application "
RadioZ
" from the
Karotz Store
. After the installation you will need to copy the "install-id" from karotz.com in the configuration panel.
For your Nabaztag you'll need only the "API Key" from nabaztag.com
On the karotz, the streaming is limited to ca. 15 minutes, then you'll need to start the stream again.
Radios and songs syncronization across your devices needs the same iCloud account configured on your devices.